WARNING: Trading Lies That Will Waste Your Time and Money
I may come across a little harsh in this report, but I don't believe in sugarcoating anything or giving you false hopes of success.  There are enough swindlers doing that already.  I want to give you the facts, like 'em or not, so you're empowered to take action and make positive decisions on how to succeed in trading the markets of your choice — Forex, Stock Market, ETFs, etc.
They Nearly Begged Me to Help Them
For years now, my students and readers have been pleading with me to show them how to trade the Forex markets.  And many of them actually took my stock trading courses and started telling me about all the money they were making by applying those courses to the Forex markets.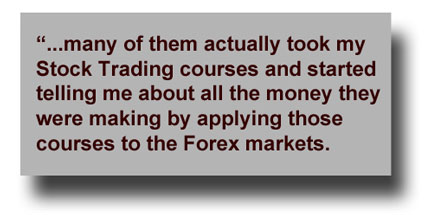 They essentially proved to me what I knew to be true – markets are markets.  There's nothing magical about the Forex markets, because all markets are ultimately driven by human psychology – fear and greed – and supply and demand.  Sure, every market has its own peculiarities, but if you understand how the basic drivers of human emotions work, you can potentially succeed big in any market.
As I researched the answers to my students' questions about Forex, the more I realized that too many traders were getting "suckered" and "taken" by less-than-honest Forex "brokers", as well as the "holy grail" peddlers who were preying upon the wide-eyed desperation of traders who think they can "get rich quick" trading the popular Forex markets.
Excuse me, but what I found was disgusting.
I found more misinformation, lies, and hype about Forex than I had seen in some time.  And that's when I decided to put all my energy into dispelling this junk so I could give my students and readers a source of factual, actual, solid, realistic Forex Profit Principles that they could use to potentially profit in the Forex markets again and again.
– Bill Poulos
– – – – – – – – – – – – – – – – – – – – – – – – – – – – – – – – –
UPDATE:
Dear Traders,
A few months ago, I released a series of training videos to a small group of traders that reveals the secret of my latest Forex trading discovery…
-and I'm re-opening access RIGHT NOW to my complimentary
training presentation that reveals my discovery here…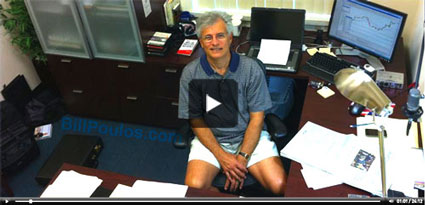 It's "what works now", and it's different from anything else you've ever seen before.
I reveal it all in my new trading lab discovery presentation here…
Good Trading,
Bill Poulos
p.s. This presentation will only be online for a short time in order to get your feedback on this discovery, so if any of this interests you, make sure you watch it here ASAP…