Forex Trader? Stock Market Investor?
New Secret to Short-Term Income and Long-Term Wealth
The financial condition of the world in which we now live bears little resemblance to that of decades past.  And the precarious state of global political and economic affairs most certainly points to more change for the worse.
Because buy-and-hold investing no longer works, and because methods currently used by traders to exploit markets like forex, stocks and ETFs could become obsolete very soon, investors and traders alike crave an answer to the following question:
"What's the fastest and safest way to create both short-term income and long-term wealth in today's markets?"
Bill Poulos, a man with his finger on the pulse of the trading and investing world due to constant interaction with his more than 37,000 students, stood acutely aware of the demand for an answer.  So, beleaguered by this nagging question, Bill got to work in his trading lab to find a practical solution.  That research and experimentation lead to what he calls a "real wealth discovery", the fruits of which gave birth to his latest offering…
The Real Wealth Income Generator Course and Trade Alert Software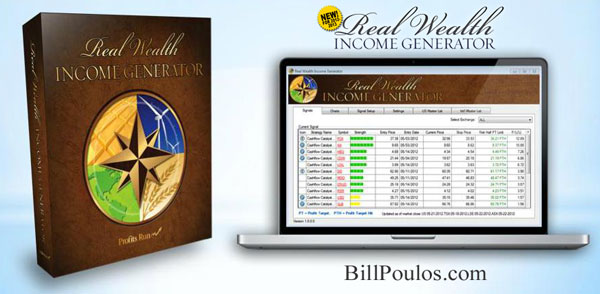 [watch a video of how it works]
It all has to do with an unusual short-term trading technique that exploits the huge volatility in a very particular type of "real wealth" market.  And the present and future profit potential in these markets is staggering.
Bad News is Good News?
It's important to mention a particularly unusual fact about these markets, and that's the part about Bill's discovery that makes it so timely and relevant to the issue at hand:
The worse the financial and economic news gets around the world, the better the profit potential becomes in these markets.
That means that the out-of-control U.S. debt, the collapsing Euro and the rise of corrupt governments are actually a good thing for us when we harness the power of Real Wealth Income Generator.
How to Predict the Direction of a Stock or ETF
Another very important component of this new trading method and software lies in its uncanny ability to predict the direction of these specialized markets.  It will show you where the market is heading for the next 5 days, and it does so with a very high level of accuracy.
If you knew which direction the market was going to go in the next 5 days, how many trades would you place?
If you like to make money, hopefully you answered "as many as possible!"
This proprietary prediction algorithm, as it uniquely applies to this special set of real-asset markets, came to life as a result of Bill Poulos' almost 40 years of trading analysis, and you will not find it anywhere else.
Is it simply another "black box" gimmick?
Not at all.  Predicting the 5-day trend is only one component of a complete trading system that involves step-by-step trading rules for three different, brand-new trading methods.  With this training and software, you will know
Exactly where and when to get into a trade
How to quickly and safely lock in profits
How to maximize your profit from a trade
How to minimize your down-side risk
The software taps you on the shoulder to alert you of a potential trade setup, and then it spits out your entry orders and initial stop and profit target orders. The training gives you the knowledge to know exactly when and how to take action, so you always know and understand what's going on, and you remain in complete control of your trades.
Trading Real Wealth Income Generator Takes Less Than 20 Minutes
With this approach it's possible to trade in less than 20 minutes after the market closes, so the rest of your day stays wide open to do whatever you want.  That's wonderful news for anyone frightened by the stress, worry and thought of being tied down to your computer all day long attempting the day trading game.
This is swing trading, not day trading.  Your trading is completed in a few minutes each evening, and profits are taken from your winning trades every few days.
Safe and Profitable Markets – Not What You Would Expect
Another essential key to making this program work has to do with a special list of 65 of the safest U.S. and international markets hand-picked by Bill Poulos for their high profit potential.
So, we have the ability to peek 5 days into the future on 65 of the best markets with a high degree of accuracy, and we have a system to quickly and safely place as many trades as we want, in 20 minutes or less each night – Monday through Friday – again and again.  Do you think this scenario would give you an unfair advantage?
What does Bill Poulos himself say about his new program?
"In nearly 40 years of trading the markets, I've never seen anything as safe, fast, and powerful for trading these markets as the Real Wealth Income Generator, and I think you'll agree once you get your hands on it."
Click Here to Learn More about Real Wealth Income Generator
–