Forex Profit Multiplier, the latest foreign currency pair trading course by veteran trader Bill Poulos of Profits Run, Inc., arrives at a time when many impending economic and regulatory changes will affect the fundamental way most FX traders trade and make their living.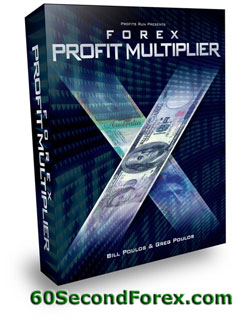 These changes include:
Hyper-extension of the current global economic downturn
Wildly fluctuating exchange rates as world governments debase their currencies
The big slap by the CFTC to decrease position leverage for traders
However, according to Poulos, these conditions actually spell great news for the Forex markets.  In fact, he says it could actually be like a Gold Rush if you know what you're doing.  How so?
1. Market Movement
First of all, increased fluctuation of world currencies means the creation of more tradable moves and trends that can be exploited for profit potential by the trader who knows how to trade the "right" way.
When you have movement in a market, you have opportunities to trade.  So the increased fluctuation will almost certainly yield more frequent trading opportunities in the coming months.
2. CFTC Ruling Reduces Position Leverage to 50:1
This move to change leverage will be a nasty inconvenience for many Forex traders, and will be a major blow to those attempting to get their Forex profits following signals generated by Expert Advisor (EA) "robots", most of which will go haywire and be rendered completely unusable.
While Poulos has long opposed trading robots in favor of empowering traders to make intelligent decisions based on sound education and solid trading methods, students and consumers of Forex Profit Multiplier (as well as his other Forex trading courses) will see no adverse consequences effected by the change in leverage.
So while most Forex trading robots will instantly become obsolete, every Forex method ever developed by Bill Poulos will still work because of the unique and simple way he teaches you to manage risk.
What About the New Software Component of Forex Profit multiplier?
Well, this software is certainly no trading robot.  Think of it as your personal trading assistant that will perform the mundane, mind-numbing task of chart watching for you while you go about your day doing other important things (or just relaxing).
Here in lies the fundamental difference between Forex Profit Multiplier and Bill Polous' other trading courses.  While maintaining complete control and autonomy over your trades, you free yourself from the usual associated drudgery.
So, together with the education you get with the training course, the new software component propels your trading efficiency and empowers you to complete your trading in as little as 60 seconds.
Swing Trading in 60 Seconds – A Goal Becomes a Reality
Bill Polous, a pragmatic trading-method engineer that never rests on his laurels, went back into the lab with five goals in mind.  Driven by his ever-present desire to deliver the very best educational products and trading methods that match the needs and demands of his students and fellow traders, these goals included:
Create a new, sustainable income stream anywhere in the world
Shield your trading account from huge losses
Start with as little as a $500 account
Become and Independent Trader
Place your trades in 60 seconds or less
Did he achieve these goals?  Poulos believes he has.
While the 60-seconds trading component stands out as the salient deference here (compared with his previous courses), the less apparent but equally innovative feature of the Forex Profit Multiplier are the 3 setup conditions based on 4-hour bars.
Poulos calls the 4-hour time frame the "sweet spot" for traders that want to pull daily profits from the Forex markets without the stress and distraction of day trading.
What else?
Poulos claims the Forex Profit Multiplier system accurately predicts where a "tradable" market will move during the next 8 hours.  If he's right, this magic predictability of his new system — combined with trading the 4-hour bars — can potentially deliver a daily profit machine accessible to anyone with the trading capital, few minutes spare, and the discipline to follow the correct trading methods he teaches.
So, what's my final take?
Forex Profit Multiplier gives the experienced trader another powerful weapon for his trading arsenal.
However, I believe there's a more important reality born out of this product.  The 60-second trading feature of this new course, method and software opens up the lucrative opportunity of Forex trading to anyone who wants a piece of this action — beginner or advanced, trading junky or investor — that also wants to have a life outside of trading.