Forex Profit Caster – Trader Results, Promo Code Bonus (& Weird Trick to Make it Work)
You've Seen Bill Poulos' "Dirty Napkin" Triangles That Predict the FOREX Market with 79.6% Accuracy, Now Discover How You Can Get His Entire Forex Profit Caster System, Including the Software and the Training Videos, at an 87% Savings — Plus a Very Special BONUS Worth Almost $2000~
"Just want to write to you to let you know how great the system perform, i have already recovered the course fee plus extra with just one trade from the GBP/EUR and EUR/USD. Thanks for sharing the system, keep it up."

 — Roger, U.K.
Here's good news for you…
The Forex Profit Caster package you're about to receive when you enroll today includes a few very special extras that until now haven't been revealed — important extras that will assist in propelling your profit potential higher than "Fearless Felix" Baumgartner's skydiving capsule…
And you won't be needing a silly "coupon code" or promo code (there's actually no such thing for Bill's products) to qualify for the best deal on Bill Poulos' new Forex Profit Caster system, software and training (more on that in a minute).
However, I do feel compelled to expose a potential stumbling block cleverly disguised as valuable "extra help" for new users of this product — offered perhaps even in a spirit of genuine concern for trader welfare, nevertheless beguiling in it's effect on those wishing to actually profit by using and applying this system.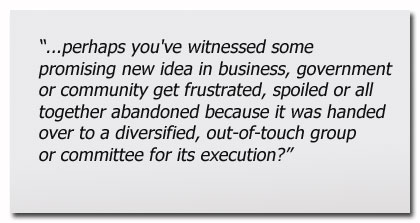 You see, to help spread the word about his ground-breaking trading products, Bill Poulos and the good people at Profits Run enlist the support of other successful traders, trading educators and trading course authors to promote these products to their students, followers and customers.
This works extremely well in introducing these unique trading systems and training to those who stand to benefit from it the most.
However, often times these affiliated promoters may chose to offer a special bonus gift incentive to their followers who purchase these courses; gifts in the form of additional trading techniques, systems, EAs, newsletters, signals, etc.
And this is where the good-natured intentions of others actually cause interference and present you with a real road block to your ultimate success in applying the very system you just paid for.
Sounds counter-intuitive?
Is this really so wrong?
Like I said, their intention is to help.  But more likely they're unwittingly presenting you with a poison pill destined to at best impede your success with the materials and at worst guarantee your failure!
To put it another way, have you ever heard the old cliché, "too many chefs spoil the soup"?
Or perhaps you've witnessed some promising new idea in business, government or community get frustrated, spoiled or all together abandoned because it was handed over to a diversified, out-of-touch group or committee for its execution?
You have to remember that with Forex Profit Caster (as with all his trading systems), Bill has deliberately, by scientific design, created a complete package incorporating all the necessary components for your success, namely:
the training component
the trading technique
its correct method of application
and the software tools to assist in an easy and painless execution of the system.
When you understand Bill Poulos' engineering background, the composition of this package makes a lot of sense.
Bill's a degreed engineer, and the hallmark of a good university engineering education entails mastering the skill of analytical problem solving through the creative and rigorous application of correct universal principles.
Depending on the problem at hand, the relevant principles applied could be, for example, the immutable laws of physics or they could be the economics of supply and demand.
For the sake of Forex Profit Caster, the principles at work are the intangible forces that move the world currency markets coupled with the dynamics of trader behavior tendencies and proactive risk management.
The Truth about Post-Purchase "Bonuses"
Bill's Forex Profit Caster is a complete, self-contained trading system engineered by design to maximize your success and profit potential in the foreign currency markets in the easiest way and in the shortest possible time.
You do not need any "bonus" supplemental and potentially contradictory information, signals or techniques — supplied by others — thwarting your efforts and distracting you.  What you do need is to give this system a fair chance to produce for yourself the amazing results seen by those who manage to stay singularly committed and focused.
This point is critical to your success so I'll state it again a bit differently:
Once you've finally gotten your hands on this incredible all-in-one package, the very last thing you need is some third party's extraneous "bonus" system, EA, signal service, newsletter, etc. to mess with your execution of this system, distract you from your goal and pull your focus away from where it needs to be for you to succeed.
Why is this so important to mention?
Your success with the Forex Profit Caster system largely depends on you consistently applying its method and rules with exactness.  And that means taking all the trades it identifies over a meaningful period of time, applying the specified exit targets and stops to manage profit taking and risk dictated by the trading rules, in a way uncontaminated or distracted by factors outside the system.
Without consistent, rigorous application of the Forex Profit Accelerator trading method once you have it, how on earth will you know whether this system — in which you are investing your hard-earned money — actually works for you?
Trading, as we've all heard, is a numbers game.  And the astute among us also know and understand that it would be statistically impossible for a trading system to produce 100% winning trades.  The percent accuracy claimed by Bill Poulos for this system is based on real, empirical research and testing.
So let's take Bill's claim of 79.6% accuracy.  In fact, let's be conservative and speculate that in the short term the system only produces 60% winning trades.  The trader with a casual, wishy-washy approach, even without interference from outside signals or "hunches", could conceivably lose money on 100% of his first 3 or 4 Forex Profit Caster trades — then throw in the towel claiming that the system "doesn't work".
This same trader, had he not given up and continued in his course of action — taking all the trades delivered by this system, would have missed out on the next…
6-in-a-row winning trades!
So we see that when given a statistically-proven winning system, fortune favors the tenacious and methodical trader who sticks to the plan.
Bill created Forex Profit Caster to be a complete trading system and method.  He created the accompanying training videos to bring you up to speed quickly.  And he developed the alert software to make application of the methods as simple and fool-proof as possible.
He's done the "heavy lifting" for you — the research and testing necessary to deliver to you a system that has a winning edge.   And a winning edge is all it takes to stay profitable for the long haul.  Don't believe me?  Ask any casino operator why this fact is a certified truism and see if you can draw a parallel for yourself.
But you have to work the system with exactness, taking the trades and following all the rules if you expect to achieve the promised results.
You can't just wake up one day and indiscriminately say to yourself, "Wow, I think it's time for a rally in the GBP/EUR because of what I heard that guest analyst say on CNBC last night" and then start placing random trades that defy the system based on rumors and your emotions of greed and fear.
You can't fool yourself into saying you're working this system if in the thick of things you suddenly break away and half hazardly short the USD/JPY based on an email that showed up from some self-proclaimed "expert".
If you want to succeed in your Forex trading (and we hope that's your plan!),  here's a real system that works.  What more do you need?  But you have to put on the blinders, shut out the noise and focus on trading the system — like I've been saying — with exactness.
So, is there "one weird trick" to profitable forex trading with Forex Profit Caster?
Here's everything you need to know…
"I finally succeeded when I ignored everything else."

— Steven T., Reno, NV
Are you up to the challenge?  everything you need is right in front of you… a proven, tested system that gives you the required edge, the concise and specific training you need to get up to speed as quickly as possible, and a slick software component that eliminates human error, takes out your manual labor and alerts you in a clear, visual way.
If you're ready to hunker down and put Forex Profit Caster to work for yourself, then why not get started today while enrolment is still open?
What's it going to cost you to get started?  Let's reiterate what's included and what these components of the package are actually worth:
As we've heard from Bill, you actually get instant access to everything for only 3 easy payments of $797.  That's a whopping 87% savings over what this package is actually worth.
But wait, there's more! (of course — wink)…
Here's the surprise you've probably been waiting for — a real, bonafide bonus provided by Bill Poulos himself that is completely congruent and complementary to your success with Forex Profit Caster:
8 Group Coaching Sessions valued at $1,997.  Bill's goal with these sessions is to answer any questions you might have about how to use and succeed with this system.
Remember, success with Forex Profit Caster simply will not happen in a timely fashion (or indeed at all)  if you're busy being lead to and fro by third-party bonuses designed to draw away your attention and put your focus elsewhere.
Bill's coaching sessions will begin a few weeks after you enroll, giving you a chance to find your way around and become familiar with the system first.  That way you'll be in a better position to have your most important questions addressed by Bill himself and his senior trading coaches.
You will meet once a week on a live webinar with them and all your fellow traders signed up with Forex Profit Caster.  This will give you the chance to hear answers to questions from other traders using the system — important questions that you might not have thought about or solutions to problems or situations you might not yet have encountered.
Bill will share the screen of his main trading computer with you during these sessions, with the software running, as he digs down into live trading examples and answers any question you might have.  Bill has used this coaching format in the past, and it's always a big hit with his subscribers.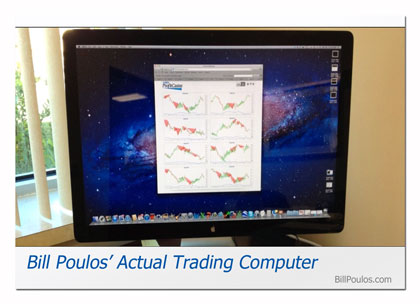 So, unlike those dubious third-party bonuses that pull you away from your goals, cloud your understanding and keep you stuck in your rut, Bill Poulos is giving you one unique, powerful bonus that actually contributes to your understanding, focus and success.
This is potent stuff when applied correctly and can certainly change your life as a forex trader.
And now that you've read this page, you also have the elusive key required to apply this system correctly.
It's a simple enough concept, but it bridges that gap between having a winning system and getting winning results with that system.  I fervently believe that it's…
"The best-kept secret to trading success."

— Jeffrey O., Professional Trader
Jeffrey O. of course would be me 😉 .  If you've read every word on this page, you now have in your possession the missing link to making Forex Profit Caster actually work for you — and provide consistent, long-term success with your forex trading in general.  Pretty amazing revelation for you I hope.
Are you ready to finally take the right action necessary to succeed?  Then take these two simple steps right now…
Sign up for Forex Profit Caster (click here to get the savings and bonus)
Apply the uncanny little secret I've just described on this page
Then put it to work, being absolutely committed to applying the "weird" little secret I've just told you about to unlock all the profit potential built into this wonderful system for yourself — sooner rather than later if you're smart.
Consider this your Public Service Message for today.